Borrow sports and play equipment via app
With our SportBoxes you can borrow sport and play equipment directly at sports- and playgrounds. In the SportBoxes you will find, for example, foot or basket balls, boules balls or fitness training equipment. What do you need for this? Only your smartphone and the SportBox app. What are you waiting for? Let's move!
How it works


View image video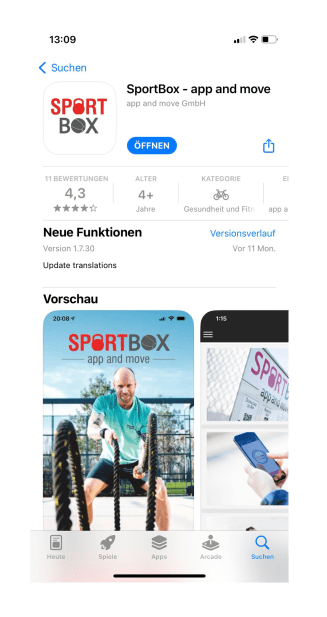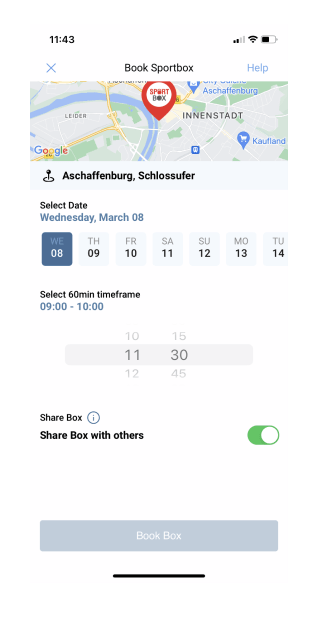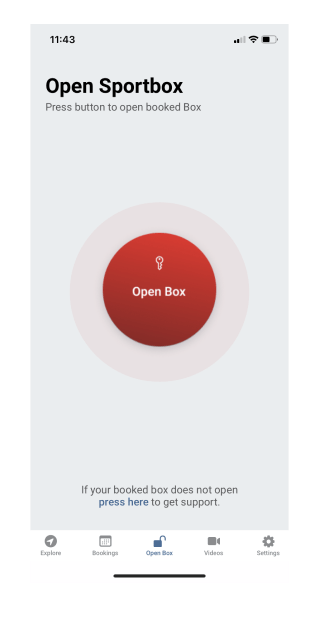 That's how it works
Register
Download the app and register as a SportBox user*

*One-time registration fee for the user verification of € 0.50
Book
Select location and time in the app.
Tip: On request, you can release your booking for other athletes and friends.
Start
Open the SportBox of your choice with your smartphone. Have fun!
Our locations
FAQs
I can't open the SportBox. What can I do?
Tip 1: Do you have your Bluetooth activated? If not: Activate and try to open the SportBox again. Your Bluetooth only needs to be activated and not connected to the box.
Tip 2: Disconnect all other Bluetooth connections (Apple Watch, headphones, etc.) and try to open the SportBox again.
Tip 3: Is the booking visible under "My bookings"? If not: Carry out the booking again.
Tip 4: Are you standing close enough to the SportBox? If not: Stand closer to the SportBox and try to open it again.
Tip 5: It still didn't work? Use the reset button to reset the SportBox.
Tip 6: You still can't open the SportBox? Contact us via the app, by phone or by email. We're happy to support you!
How many people can use the SportBox at the same time?
The equipment in the SportBox is sufficient for group training sessions of up to 20 people (depending on the package your city/club chose).
How can I use the SportBox together with friends?
When booking via our app, you can share your training with friends so that they can easily join your training.
Do my friends also need a SportBox user account?
Yes. Everyone who uses the SportBox and the included equipment must be registered with SportBox via their own user account.
Who is liable for theft and vandalism?
All SportBoxes are equipped with a camera system and are connected to the SportBox cloud. In this way, we can trace theft and damage at any time. The user responsible for theft and vandalism is liable accordingly.
Data protection: what happens to my data?
All SportBox Services are GDPR-compliant. The app's user data is stored on a German server. Information on the use of the data from our payment provider Stripe can be found here: stripe.com/de/privacy Our privacy policy can be viewed at www.sportbox.de/datenschutz/.